Selector de Frecuencias 2006

Lo que escuchamos, dicen nos refleja. A veces. Los gustos personales son traicioneros, delatan pero también protegen. Es difícil intentar hace un resumen de lo que uno escucha y disfruta a lo largo de un año. La música –y otras cosas- no debería estar sujeta a temporadas, al subibaja en la lista de popularidad, a esas políticas de mercadotecnia del siglo pasado, criterios de estrellitas y números para señalar calidad, criterios absolutos y obsoletos de pedigrí y autenticidad. Cosas así.
Esto es que hay.
El pop que vino del frío
El norte de Europa is burning. Olvídate de ABBA (aunque a nosotros también nos gusta mucho), del cheesy europop y de, please, Roxette. Entrando a sitios como
Hello! Surprise!,
rokk.is
o siguiendo la lista It´s a trap , es fácil comprobar porque se afirma que en esa región elaboran el mejor pop del mundo.
Este año mis favoritos son TanzMuzik, Bobby Baby, Stesso songs, Montt Mardié, Ingenting, Le Sport, Le Musique Populaire, The Radio Arts, Pulpa, Retropop, Hej!, The Rouge Bunnies, Peter Bjorn & John, We are from Barcelona, The Legends, The Happy People, Pulpa, El Perro del mar, Russian Love, The Tough Alliace, Lordi y un contingente de grupos y proyectos que se (re)generan casi a diario. El sonido va del electro pop de excelente factura al indie pop lo fi para bailar y emborracharte en el peor garito de Suecia, del twee pop para ya no añorar los discos de
Sarah Records
al nuevo punk hecho por artistas del diseño, pasando por revisitaciones glam y hard rock eurovisivo. Pop ´til you drop.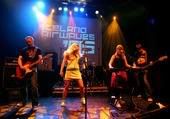 La Luna, Anne Marie, Carnival Park, Soft Pillow Kisses, Days like postcards no son grupos nórdicos pero suenan como si lo fuesen. Vienen de Indonesia, Corea y Filipinas a enredar más la red del twee pop internacional (con los brasileños Postal Blue, los mexicanos Hello! Seahorse o mis eternos favoritos, los islandeses de Dyrdin). Love them too.
Más que samba
From Brazil, lo más punk desde el primer disco de los Ramones (y no, no es Cansai de ser Sexy). Actitud callejera, sexo lascivo y sudoroso, la euforia del estadio cuando tu equipo mete gol, el intercruce de todo lo bueno que ha salido en la música los últimos 30 años (new wave, death metal, hardcore, hip hop, Miami bass, electro, el pop bastardo) y actitud política incorrecta hasta el hueso. Yeah, el sonido licuadora at the best, servidos en vigorosos mp3´s.
Diplo tiene buen ojo: tras el suceso de M.I.A., funda su sello
Mad Decent
y ficha a Bonde do role, la banda a seguir y sudar (un directo impresionante, divertido, caótico y, cabe decir, esperanzador si aún crees que la música es lo único que puede salvarnos). Otros nombres? Ahí van en rehilete: Tati Quebra (la reina del sonido), Mcs Cidinho e Doca, Curtis Vodka, Trigrinha & MC Maguila, Os Princesa, Edu-K, Bonde das Impostoras. Pobre Novo Funk, chic favela sound, funk carioca o baile funk? Nevermind the labels, feel the muzik.
Estación Spain
Los Planetas llegan tarde a México (pero llegan).
Rock de Lux
informa de la
España Subterránea
(de los weirdos Humbert Humbert a los maravillosos Grabba Grabba Tape) y se olvida del nuevo pop, el punk revivalista y el queer electro. Con Jesús Ordovás y Juan de Pablos -desde Radio Tres- como faros, con sitios como
Vivaelpop.com
sirviendo de supermarket de mp3´s y la llegada, tibia al inicio, de los grupos españoles indies a myspace, se nos anuncian buenos tiempos para la música española que hacen recordar la explosión creativa que significaron los mejores años de
La Movida
.
Demasiados nombres así que van los más recomendables: si apuestas por el indie, corre a escuchar a Indienella, Prin la la, Ligre, Linda Guilala, Han Solo, Los Happiness (pop viral pro castidad); si lo tuyo es el punk tanto en el lado provo como el lado más infantil, atento a lo que hacen La Paja Romántica (con un logo a lo Dead Kennedys y el hit del verano llamado Yo estoy a favor de la pena de muerte) Las Fuhrers (great name, btw), Viernes 13, La La Love You. Otros favoritos: Single, Las Anfetanenas (con una versión electro punk al Teenage kicks de los Undertones), Comando Suzie, los nuevos Beef, Colajets set, Feria y casi todo lo que se edita en Siesta, Elefant, Jabalina, Austrohungaro, Acuarela, Mushroom Pillow, SpicNic. A buscar y gozar el eterno verano que Family nos prometió.
Indie Mexican Style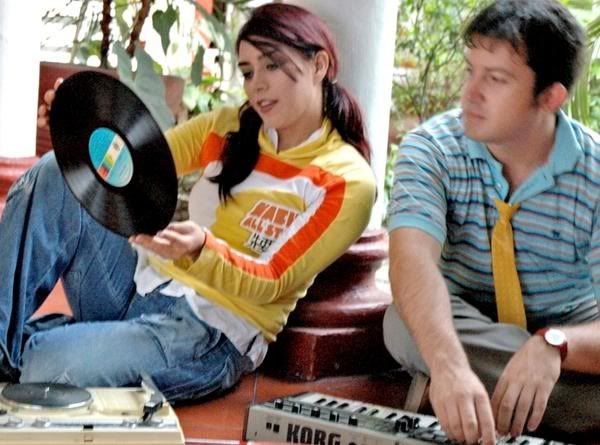 Ahora resulta que todos somos, ya no Marcos, indies. ¿Cuánto durará la moda en revistas, tv shows y programas de radio? I don´t know pero lo que sí puedo decir es que nunca antes habíamos tenido tanto de donde escoger, con una calidad que ya no se discute ni nos pone en vergüenza cuando mandamos esos cd-r´s de intercambio.
Naomi Klein cuestionaba en No Logo a las marcas, pero en asuntos disqueros confío buten en ellas: Mi consumo local? Static (que no deja de subir el listón), Soundsister (ey, editaron a Maniquí Lazer y a SWAL), Molécula Records (la sucursal del spanish pop en México), Poni Republic (hogar de Yamamoto, mi banda tijuanense favorita), Verdigris (ofertando música rara), Cremosonic (de todo un poco, esenciales su serie de
Antojitos Mexicanos
), happy fi y Abolipop.
Nombres de grupos que no dejaron de sonar en el estéreo, en el radio show o en mis sets como popne-discos: Álbum, Childs, Fax, Dixybait, Seekers who are lovers, Antena, Latinsizer, Cuarto Paisaje, mp1000, Artillería Verbal, The Polardroids, Redención, Bocafloja, Ali Gua Gua, y todos sus proyectos, Réplica, Jack´s son La Casa Wagner, área Tour, duopandamix. De todo un poco (electro pop, electrónica minimal, spanish pop, italo disco, avant hip hop, mash ups, punk).
Citando a Bonde das impostoras:
Eu sou mais indie que você, Oê oê oê
The Best of Selector de Frecuencias
1.
Solta o frango/maquina de ricota .-
bonde de role
2
. Mariana.-
childs
3.
It´s a hard life
.- Seeekers who are lovers
4.
Yo estoy a favor de la pena de muerte
.- La Paja Romántica
5.
Auf deutsch.- Tanzmuzik
6.
young folks
.- peter bjorn & john
7.
punkdrommar
.- ingenting
8.
le kkk enleve mon bebe .- os princesas
9.
Amo a Laura
.- Los Hapiness
10.
Insane
.- ESG