elefant says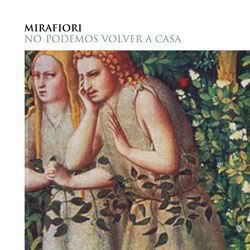 Debut largo de MIRAFIORI en AUTOPOP

Hace ya cuatro años que MIRAFIORI editaron "Cinco minutos", su EP de debut en el sello Annika, y enamoraron a los fans de los sonidos más delicados del indie-pop con canciones como la que daba título al disco (quinta mejor canción nacional de 2002 para los lectores de Rockdelux) o "Cosas que es mejor no hacer", escogida por Julio Ruiz como Canción del mes de Junio 2002 en su programa Disco Grande, de Radio 3.
Ahora, tras una larga gestación debida a su residencia desde hace tiempo en el extranjero, llega por fin "No podemos volver a casa", el debut en formato largo del grupo de Nacho Fernández. La música incluida en el disco, deja entrever la calidez y las armonías del pop y el folk de los sesenta (THE BYRDS, THE LEFT BANKE), combinadas con un gusto por el clasicismo y el preciosismo instrumental (Isao Tomita, Erik Satie).
A esto se añade el sabor ochentero de las programaciones electrónicas, y un acabado en muchos momentos tan cercano al sonido de FAMILY como al indie-pop de THE FIELD MICE o BRIAN. Las letras de MIRAFIORI, a veces más simbólicas y escapistas, otras veces mucho más directas, y casi siempre cubiertas por un velo de desesperanza, se unen a la música en una búsqueda urgente de la belleza siguiendo los patrones de la canción pop tradicional.
El disco se ha grabado en Madrid con la ayuda de Guille Mostaza (miembro del grupo ELLOS y productor de PORTONOVO, entre otros), y tras la desaparición del sello Annika será editado a través de Autopop en Septiembre. En el mismo se incluyen canciones pertenecientes a distintos momentos en la trayectoria del grupo, desde los años de las primeras maquetas ("Estamos desafinados"), los meses posteriores al EP en Madrid ("Recuerdos del lago artificial", "Luciérnagas", "Nosotros y nuestros abrigos", "Agujeros en la arena"...), y las largas estancias de Nacho en Alemania ("En la luna", "Hasta que vuelva", "Acto de constricción") y en Francia ("El idioma de las flores").
Fecha de salida: Septiembre 2006
Escucha algunas canciones en NOVEDADES: http://www.elefant.com/novedades.php