elefant says
Como ya informamos el año pasado, el sello taiwanés Avant Garden Records lleva ya un tiempo editando discos seleccionados del catálogo reciente de Elefant: Ana D, ENTRE RÍOS, NOSOTRÄSH, NIZA, CAMERA OBSCURA...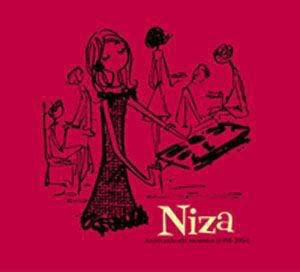 El sello de Taiwán edita ahora un completo recopilatorio de NIZA con el título "Archivando mis recuerdos [1998-2004]", un disco que abarca la totalidad de la corta carrera del grupo, con paradas en todas sus etapas: los dos singles al completo, más una serie de rarezas o temas que hasta ahora estaban desperdigados o eran difíciles de encontrar. Versiones diferentes de temas del único álbum del dúo; canciones en directo (en Radio 3, o en concierto con Guille Milkyway de LA CASA AZUL al piano, como en la versión del clásico "Fly me to the moon"); rarezas extraídas de recopilatorios varios (como "Radio Star", la canción que dedicaron al locutor de Radio 3 Juan de Pablos, aparecida anteriormente en el recopilatorio de su programa "Flor de Pasión"; y también "Jamás te he olvidado", una canción que hasta el momento había aparecido sólo en el recopilatorio de Elefant "Modapop"); versiones de FAMILY ("Dame estrellas o limones"), Jeanette ("El muchacho de los ojos tristes") e incluso THE VELVET UNDERGROUND.
Dieciocho canciones en total, que se antojan como el complemento perfecto para aquellos a quienes el único álbum de NIZA nos sabe a poco y nos deja con ganas de más.Este recopilatorio taiwanés está ya disponible a través del catálogo de venta por correo de Elefant Records, para que los fans del grupo puedan completar sus colecciones. Además, una recopilación similar (misma portada pero diferente título y, sobre todo, diferente listado de canciones) se editará en breve en Japón a través de Rambling Records.
Como sabéis, NIZA estuvieron este verano en Japón, actuando en Tokyo dentro de los actos de la ExpoAichi que se ha celebrado en el país nipón, y dado el éxito de los conciertos se proponen regresar de nuevo el año que viene a tierras asiáticas, para actuar en Japón y Taiwán, y también en Corea del Sur, donde el sello Ales Music va a editar próximamente el álbum "Canciones de temporada".

**El disco ya está editado, y disponible en nuestro país a través del catálogo de venta por correo de Elefant Records y en tiendas.
Tracklist
:
01. A contraluz [instrumental]02. Radio star 03. Por las tarde 04. Por la noche 05. Ensayo nº 3 06. Dame estrellas o limones 07. Universo [acoustic version] 08. Jamas te he olvidado 09. El muchacho de los ojos tristes 10. El viaje 11. Tengo hambre de bombones 12. Niza 13. No me digas que me quieres 14. Estival 15. Fly me to the moon [live] 16. Isolée [acoustic radio session] 18. Femme fatale
+ info, audio y video en : http://www.elefant.com/grupos_dis.php?id=17