selector no. 6 x radio global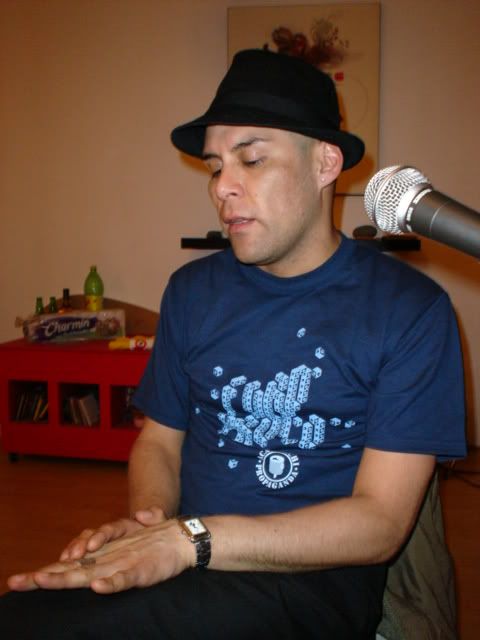 Cocó (Silvania, Cielo, Girls on film, Antártika)
en
Selector de frecuencias
. Una larga charla (casi dos horas y media). De su adolescencia en Lima escuchando lo que él denominaba "música disco del futuro" y sus primeros escarceos en las tornamesas de aquel mítico
No Helden
limeno. De su gusto por
Gang of Four
,
John Foxx
,
Visage
y su odio a los
Smiths
(nos contó un par de anécdotas que lo ilustraban a la perfección, tras escuchar la polémica "Gris Moderno").
Seleccionamos, a manera de juke-box digital, una serie de canciones para que hablara de ellas y lo hizo: reconoció que le hubiera gustado citar a otro tema de
Ultravox
en "Radio Subterranea" que el "Vienna" que nos sirvió para abrir el programa.
O.M.D
. es su techo, los 3 primeros discos sobre todo. No le gustan gran cosa los
bootlegs
o
mash ups
, se le hacen prefabricados para la pista de baile y un poco vulgares.
Acerca de
DAF 1979
,
Plot to blow the Eiffel tower
y
Thunderbirds are now
! Comento que estos grupos fagocitan a
Gang of Four
sin la elegancia de estos y aunque le gustaron, recomendo que mejor compraran los discos de la pandilla de los cuatro. En cambio, le encanto
Pánico,
el grupo chileno que es actualmente mp3 darling, y reivindico su confianza en Latinoamerica. Nos hablo de
Electronicat
y las ganas que este tiene de grabar en un sello mexicano (mr ejival tomo nota).
Adelanto que
Cielo
hara una version de "Telepatia" de
Aviador Dro
y que con su proyecto alterno
Antártika
planea editar proximamente material (del cual, escuchamos "Siempre aluminio", su particular version al <
toco madera
>), apostando por el ritmo a base de bajos sierra y actitud. Estos y otros topicos estuvieron presentes en la charla y, finalmente, autografió un cd de
Un amor mato al futuro
para un aferrado radioescucha de
Selector de Frecuencias
.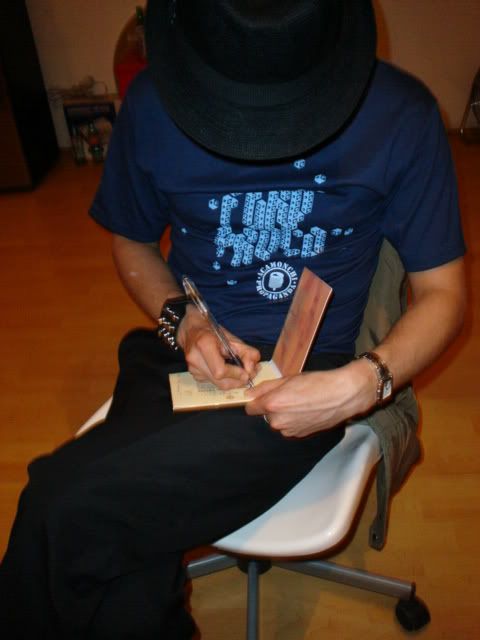 Lo quieres? Sólo tienes que escribir a
selector@gmail.com
y decirnos en 5 líneas una
buena
razon para que te lo demos a ti y no a otra persona. La creatividad cuenta.
playlist:
01. "Viena".- Ultravox
02. "Radio subterránea".- Cielo
03. "Joan of Arc".- O.M.D.
04. "Breakin my bloody process".- G.H.P.
05. "Dance le bois".- Electronicat
06. "Gris moderno".- Cielo
07. "Dance like a star" (demo cassette).- The Human League
08. "Blood on our hands".- Death from above 1979
09. "Siempre aluminio".- Antártika
10. "Drake the fake".- plot to blow the Eiffel tower
11. "Transpiralo".- Pánico
12. "Vamos a caminar".- Cielo
13. "Tanzmuzik".- Kraftwerk
13. "Superficiality".- Girls on film
14. "Last sandwich for Sanchez".- Thunderbirds are now!
15. "Elektrónika".- Cielo
16. "Ersatz".- Guerre froide
17. "Fade to grey".- Visage
18. "(We don't need this) fascist groove".- Heaven 17
19. "Sunshine on my shoulders" (Dj Riko rmx).- John Denver
*Si quieres ver más fotos de la entrevista, checa
este sitio