Jabalina Says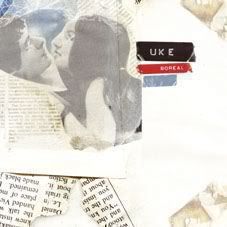 UKE
Boreal
JAB 029 mini CD
Tic-tac, tic-tac, tic-tac... Uke's clock has started ticking thanks to "Boreal", their newly-released debut mini-CD, and the clock hands are marching to the beat of "Hemisferio", the central song of the record, which epitomizes the philosophy of this Madrid & Valencia-based duo made up by Roberto Martín (a former member of Niza) and Laura Soriano.
Uke's history started last year, when Roberto, willing to continue his musical career after the demise of succesful duo Niza (Elefant Records), gathered all that experience and his well-established reputation as a composer and took a new turn. Maturity plays a key role now, although his pop roots are there too, though tinged with new attention to detail in the melodies and the essence of the songs.
Uke's approach is different, minimalist, yet evoking and euphuistical. Is roots in popular and contemporary music permit many variations, including instrumental passages such as "Cinco días en la playa" or "Fieltro y cilantro". Uke's musical cocktail includes a pinch of such different sources, the result is a collection of delicious naïve pop in a similar vein to Yann Tiersen, Mi and l'au, März, CocoRosie or – such influences categorize the band as not being part of any particular aesthetic. Nevertheless, their proposal is aimed at all music lovers willing to discover daily-life sounds covered with different and timeless textures (just like in the record cover!) and subtle, evoking atmospheres. The result is "Boreal", a small collection of songs which might sound simple at first, yet hide a complex clockwork beneath. The instruments range from classical or experimental to toy instruments, with Roberto and Laura's vocals on top of it all. The lyrics are delicate and tender, but with a certain bittersweet flavour with tastes of wounded love.\nTo sum up, "Boreal" is Uke's first record, made up of five songs which have been recently recorded (April 2006) in Arturo Vaquero's studio in Abrigueiro (Lugo).

Uke made their debut on Jabalina's compilation "Bon Voyage" (JAB-2033) with the song "Cosas que perdí en verano".

Uke are (and play): Roberto Martin (vocals, guitars, programming, melodica, kalimba, harmonium, accordion, ukulele, toy piano, toy sax, stylophone, casiotone, omnichord, theremin, percussion..) and Laura Soriano (bass, backing vocals, vibraphone, theremin, roland sh09 and pistol flute.
more info:
www.jabalinamusica.com