IDC news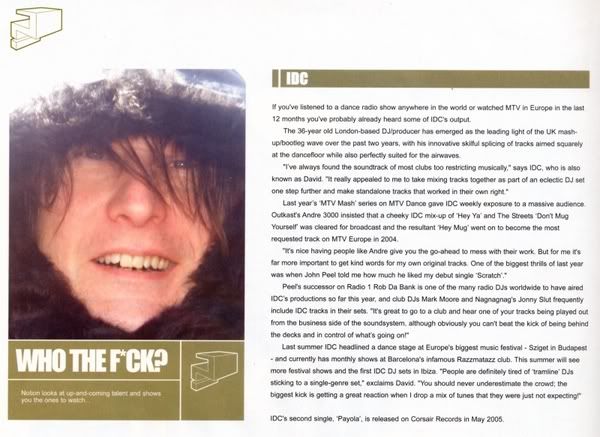 There's some great press for IDC happening at the moment with a cool feature in the June issue of Notion in the shops now - or you can read the scan above. There's also a review of "Payola" in Update #127 which rates it 4/5 and calls IDC "Our favourite protagonists of the illicit beat".
Payola is released on May 31st after being put back to make the most of the huge response from club promo play.
As for his own DJ sets, IDC returns to Barcelona for the next monthly date in front of 2,500 people in the main room of Barcelona's Razzmatazz on May 15th, along with a special appearance at the massive Salón del Automóvil (Barcelona Motorshow) on May 14th. This month also sees a set closer to home at new London club night Recognition on May 25th - see www.idcmusic.com for links and more details on all IDC DJ dates.
For the past few weeks IDC has been in the studio completing remixes for Eon on Mark Moore's new label and for the infamous Futon, both of which are out soon.